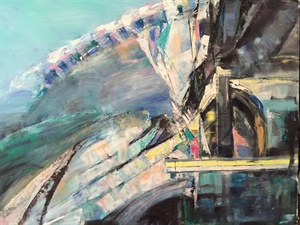 Artist's Biography
I began my career teaching art in the Massachusetts public schools, teaching art history at Westfield State College and Boston University, and by drawing and painting as a graduate student at the University of Massachusetts.
I then took a grand deviation and went to law school, clerked for a federal judge, and entered private practice. I live in Providence with my husband and family, continuing to paint almost daily, while serving on many boards of organizations, most recently as the President of the Rotary Club of Providence.
I work for my own satisfaction and when my paintings make a personal contact with the viewer it is added pleasure for me. I look for an underlying reality in what I see, searching for that which is balanced, dynamic, and transcendent. I prefer to work in oil paint because its intrinsic qualities convey a vibrant personality and develop color through glazes and texture. I paint familiar scenes in an abstracted manner, either outdoors or in my studio, from novel perspectives. My work is exhibited throughout New England. I work with color, brush work, and design to engage the viewer in the mystery of an image, recognizable - yet - evocative, offering a visual pleasure that transcends simple observation and that opens the spiritual door of heightened reality.